Money and Mental Health - Advice Service - Kent and Medway
The Suicide Prevention Programme have partnered with Citizens Advice and are offering a new service to help support and advise individuals with both money and mental health problems. This is a free service available for anyone in Kent and Medway who has both a money and mental health problem.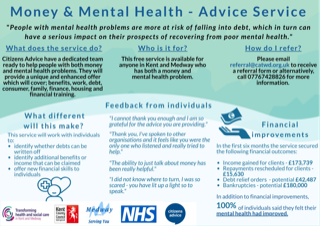 Related Articles

Mental Health Helplines

Helplines To talk about anything that is upsetting you, you can contact Samaritans 24 hours a day, 365 days a year. You can call 116 123 (free from any phone), email jo@samaritans.org or visit some branches in person. You can also call the Welsh ...

Referral: DU Mental Health Counselling

DU believe that counselling can be a positive experience. Talking therapies can help you deal with many of life's challenges, from coping with traumatic events, uncertainty and change, to managing difficult emotions and behaviour, or anxiety and low ...

Money Advice Service

The Money Advice Service is a free and impartial money advice service set up by the government. They do not sell anything to anyone. They offer a comprehensive website with fast, free, independent help on everything from pensions to pet insurance. ...

What Can I Expect from the Dads Unlimited Counselling Service?

If this is the first time you've considered personal counselling, you may be unsure what to expect from us, and your counselling sessions. It's great to approach it with curiosity and an open mind. You've already done the hardest part by seeking ...

Medway Civil and Family Court Address

Post multiple copies (we recommend FOUR copies) of your completed C100 to the following address: Medway Civil and Family Court (DFC), Anchorage House, 47-67 High Street. Chatham, Kent, ME4 4DW Telephone: 01634 887 900 ...
About Dads Unlimited
Dads Unlimited is a charity that supports mental health for men. We work with Dads to create positive co-parenting environments to improve the lives of the children of separated families and we work with male-victims of domestic abuse. You can find out more on our website
www.dadsunltd.org.uk
If you register with Dads Unlimited you agree to be bound by our
privacy policy
.